Growing up, I always had a deep love for animals. My childhood and young adulthood was spent in the barn, at a show or on a horse doing something. I started off playing games on the horses with my friends in the local fields and trails then progressed on to showing, competing and training 3-day eventers and jumpers. After a few year stint as a CPA, I realized I needed to be working full time with animals. That eventually lead to earning my veterinary degree from Colorado State University in 1998. As a practicing veterinarian, I started seeing cavaliers and just had to have one of them for myself! That was 2001, the same year my son, Cole, was born.
In 2005, I joined the Cavalier King Charles Club of Central Arizona and started showing one of my dogs – Anise. After going to some handling classes and a few shows, Spice Rack Star Anise won her first championship points – a four point major! I was thrilled. She continued on to earn her Championship and has given me some wonderful puppies. One of her first puppies, Ch Spice Rack Habanero at Cave Creek "Hovie", who has also earned his Championship, is now the proud daddy to a beautiful litter of his own. Two of these puppies are my show hopefuls that I look forward to debuting in the future. Just as exciting….OH, I better save all this for a page of its own – Please go to "Our Dogs" and "Puppies" page to see all the exciting hopefuls and things happening with our kennel.
We belong to both national and international cavalier breed clubs – The American Cavalier King Charles Spaniel Club (the AKC national club), The Cavalier King Charles Spaniel Club, USA and the regional west coast club called Cavaliers of the West. Internationally we are members of the English Cavalier King Charles Spaniel Club and enjoy traveling to Birmingham to see their shows and Crufts as well. We also are active members in the local cavalier club – The Cavalier King Charles Spaniel Club of Central Arizona (local AKC club). I served a past Treasurer for two years in the local club as well as building the health clinic during that time. I have also volunteered my veterinary services and time to the national AKC club as well as locally to help support the animal community, cavalier rescue and other rescue groups. I am a current member of the Society for Theriogenology (SFT), American Veterinarian Medical Association (AVMA) and Arizona Medical Veterinarian Association (AzAVMA).
We keep current health clearances on our dogs for hearts, eyes, hips and patellas. Our breeding program is focused on not only producing our next Championship (therefore beautiful with stellar structure and movement) but also dogs with excellent temperament and health – we have multiple generations of history on on puppies. For me to include them in my breeding program, they must be pleasant and well-behaved (well, most of the time!). Our dogs are part of our family – they live with us in the house, on the couches, in our beds. They are part of our daily lives.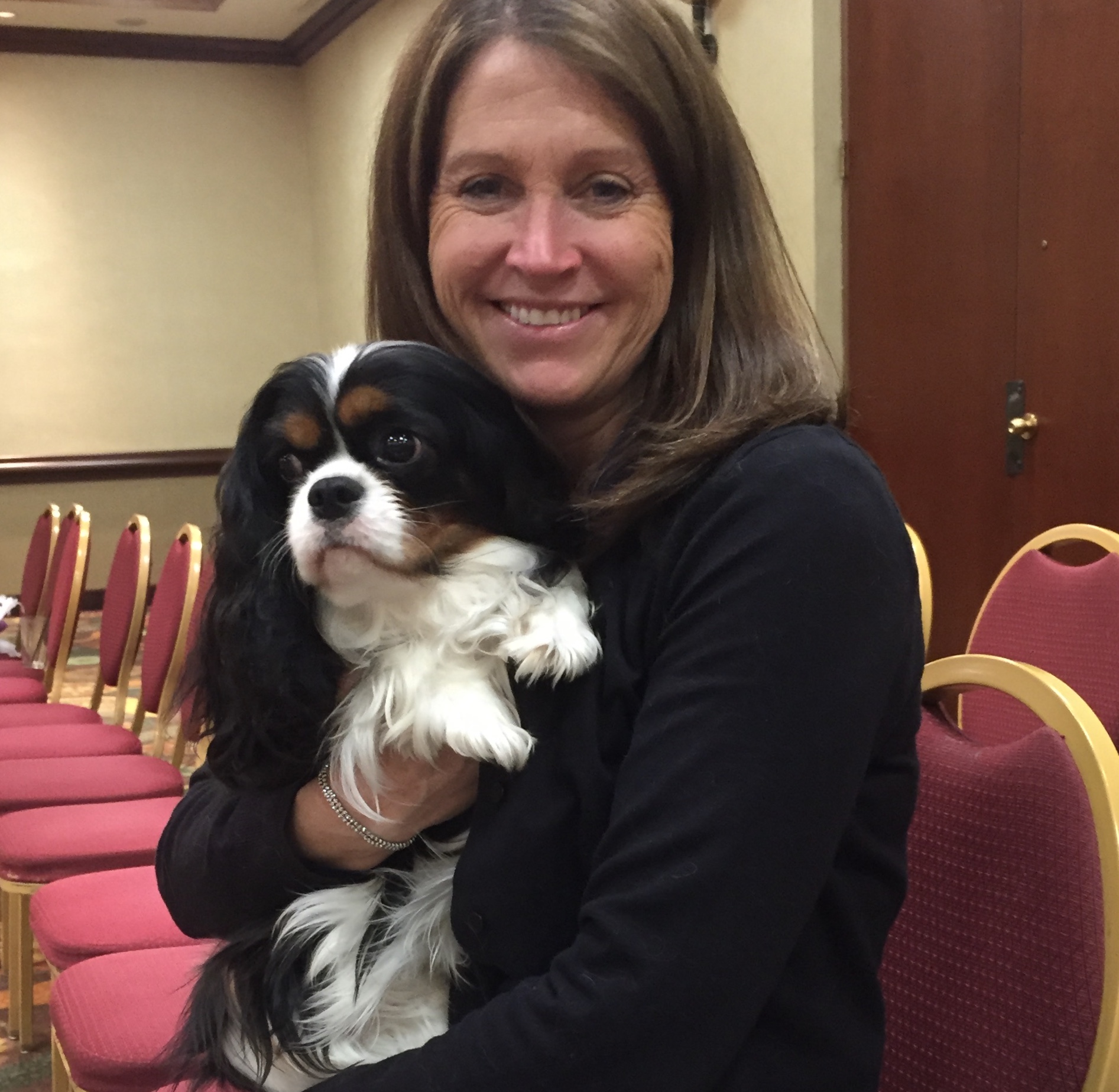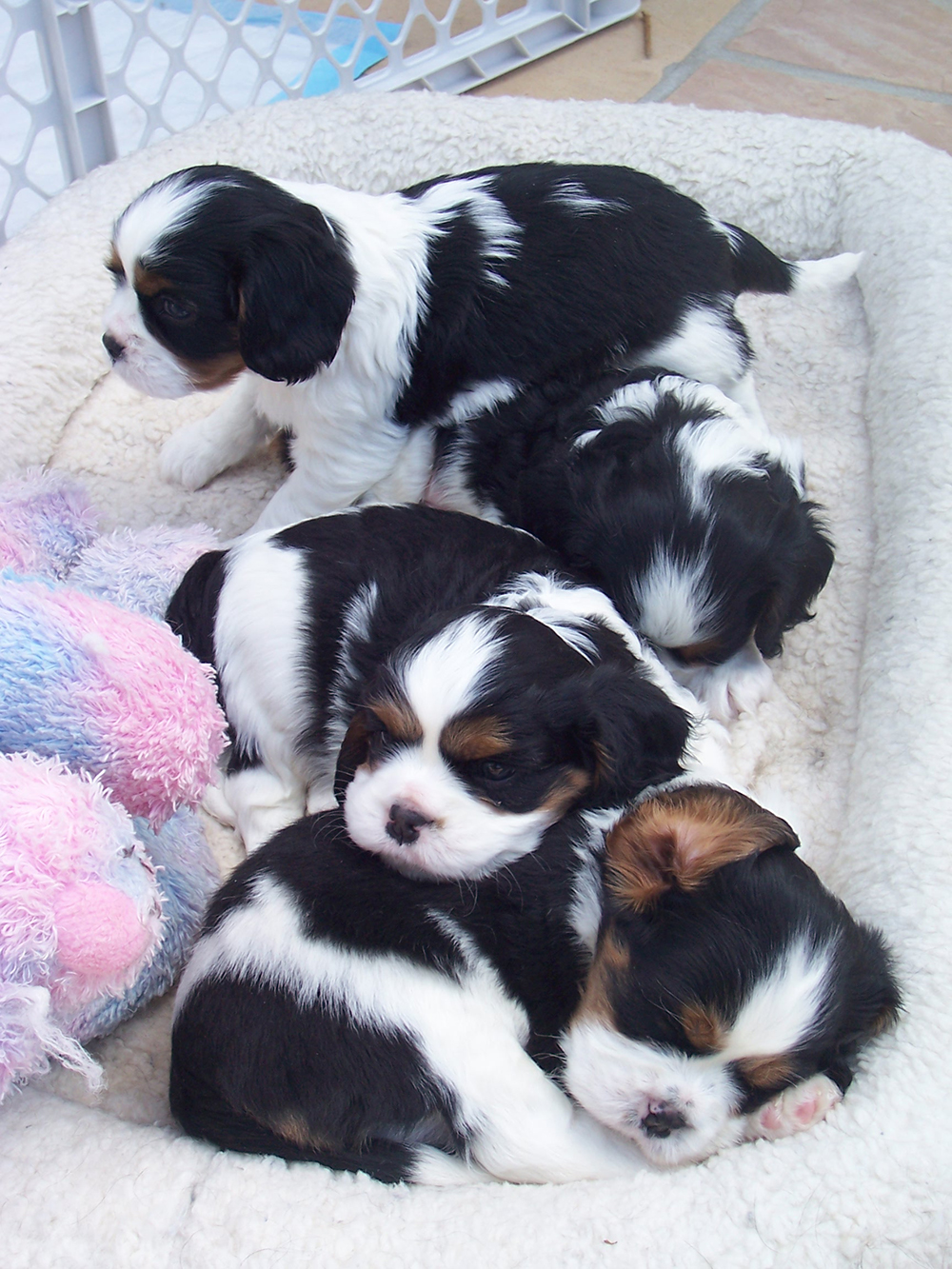 I believe a proper foundation is critical for a puppy for a pleasant, well-adjusted dog. Our puppies (and dogs) live with us. They experience many people, noises, other animals, environments all at the correct time for the individual puppy in order to help create the ideal puppy. They go places with us that are safe. The other dogs in the house teach them well – how to read other dogs, how to behave, what is acceptable and not acceptable – they enjoy a good early puppy hood that is invaluable for a stable, well-adjusted adult. We teach them proper puppy behavior from the beginning. Although they are not fully potty trained, they are well-started. They will be crate trained. Most sleep through the night within the first to third night going to your home. This takes lots of work on our part, but we believe it is invaluable for a good start. Be prepared to spend some time talking with us before taking your puppy home to be acquainted with the specifics of your puppies personality, schedule, maturity level, care and such.
All puppy veterinary care is included with your puppy except with the spay/neuter – which is required on all pet puppies. All puppies are microchipped. Each and every one of these puppies are special to me and I am available for the life of the puppy. My goal is that your puppy remain healthy and your relationship remain as positive and exciting and the day you take your puppy home.
Reference from past puppy owners are certainly available.
No portion of Spice Rack Cavaliers website may be copied, re-used or quoted in any way without explicit written authorization from the owner.